Yeah for the weekend – it's almost in touching distance. Yippee! To be honest this week has been loooooong and that's entirely the fault of the heat. I am so not a fan of the heat. I'm the one who has spent the last six days going 'when will it go?', why isn't it winter yet?' and 'how am I meant to function in this heat?'. I've been a joy to be around me I'm sure! Anyway, the stifling heat has vanished from London town and we're left with a much nicer temperature – just perfect for gallivanting and joyful adventures. Which is point one on today's Friday Favourites post – fun things!
I know I spent half of my first paragraph in this Friday favourites post complaining about the heat but it has been good at times. Like being able to sit in the garden of an evening. On Tuesday we took an old mattress out into the garden, along with cushions and just enjoyed the sun. It makes a change from usual evenings of rushing around doing all the jobs or Netflixing. And it reminds me of why I wanted a garden in the first place!

What else has made me happy this week? Well there's been the perfect ice coffees that Lau's perfected for us and the delicious grilled chicken wraps I've been craving all the time. Plus baking banana bread, reading brilliant books and catch ups with lovely friends mid-week to discuss all the things. Oh and a trip on Saturday to Borough Market. Not only to show our support on its opening weekend, but also to buy all the lovely food from our favourite stalls. It had been ages since our last visit so it was entirely necessary. We spent a pretty awesome morning ambling round and choosing donuts and cheese straws, juices and bread galore and it's reminded me of how awesome a space it is. Plus everyone was super friendly as usual.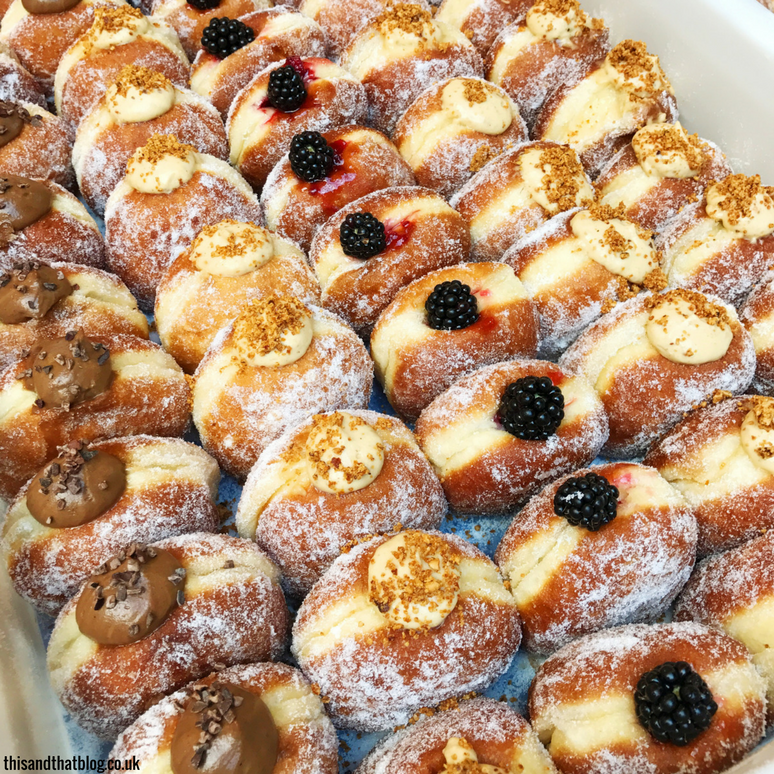 So this weekend I've got a gloriumptious weekend planned – and knowing fun things are in my future is definitely a Friday favourites! Tonight I'm off to Zoo Nights where we get to eat, drink and visit all the animals until 9pm. Apparently there are loads of 'extra' things happening at the zoo – like quizzes and competitions, treasure hunts and demonstrations. It's going to be amazing! And then tomorrow is BBQ day – YES! Before a trip down to Kent on Friday to see one of the besties for a good old catch up. I can't wait! Obviously they'll be boring things in that weekend too – cleaning, washing, meal planning, blah, blah, blah. But it's still a pretty epic weekend plan!
My final Friday favourite has to be Sundays picnic with the family. We ventured to a new park with plenty of food and the pupster to celebrate Father's Day and it was just perfect. It's so nice spending time with these lovely people, especially when there are no other distractions. And it helps when your Dad is the King of Picnics. He'd made chicken croquettes, sweet potato fries, sausage rolls, incredible sandwiches, an insane salad and even my favourite chicken vol au vents. It's fair to say we had quite a feast!

So there we go, Friday Favourites #77 is done it's definitely been a good old week. How's yours been, what were your highlights?
-Fi x