A month or so ago I had a bit of a break through in my bullet journal use and finally hit upon the perfect weekly page layout. I've been using it ever since and I'm yet to get bored of it or feel the need to add or amend anything. Therefore it's high time I shared it with you all, as well as some of my other favourite pages in my bullet journal. After all who doesn't want a bit of inspiration now and again?
So here it is, my new favourite weekly view.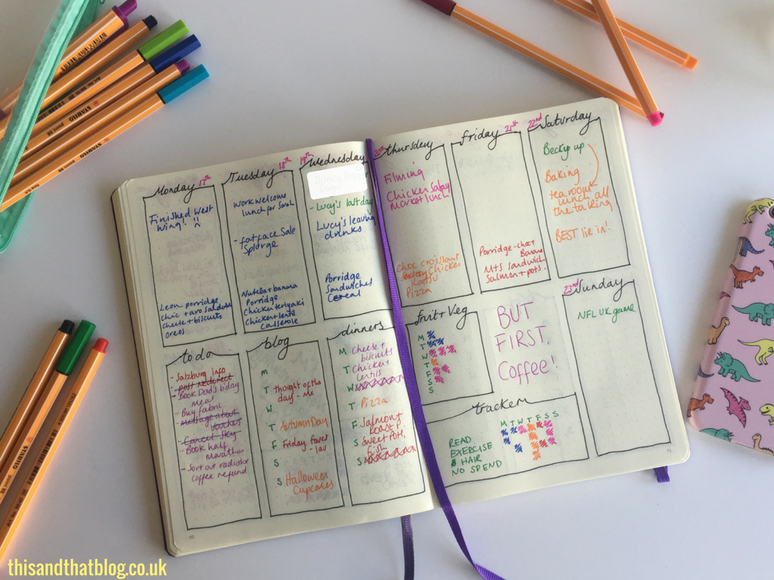 What do you all think? It's got a box per day, a box for meal planning, space for the blog schedule and a weekly to do list. Plus there's space for an inspirational quote, a habit tracker and a fruit and veg tracker too. Basically I can't not be organised with this new layout!
I tend to update it on Sunday night, so adding in all my plans, life, work, food and blog wise, plus a to-do list ahead of the new week. And then I'll dip into it of an evening or over lunch to update small things – colour in the tracker squares, add what I've eaten that day, any notable things that happened that day (a lunchtime sale splurge, Christmas sandwiches arriving in Pret, you know the important things!) and ticking off jobs done.
It's a good mix of planner and diary and is perfect for looking back over weeks gone by. And I've found it really has kept me organised over the last few weeks. What about you, what's your bullet journal weekly system of choice?
-Fi x