It's no secret that Lau and I are bookworms. As children we devoured The Babysitter's Club, Sweet Valley High, Horrible Histories, most of Roald Dahl, the Animal Ark series and pretty much any books we could get our hands on. Multiple times. So I wouldn't be surprised if every other post on this new blogging home is book related! Rather than sharing what we're currently reading with you, we thought we'd pick out our five favourite books. Of all-time. Eek, not an easy task. In fact I deliberated over this for about two hours before I had my final five. So here are the five books we'd want if we were stranded on a desert island and kindles with never-ending batteries weren't available…
First up, we have my favourite five:
The Bedspread – A lovely story about two old ladies and the different way they view the world and remember their childhoods. This is a favourite of mine not just because it's a wonderful story but because of who would read it to me. Everytime I stayed with my Grandma from aged four to twelve I'd climb into bed with her at the crack of dawn and we'd read this (and many others) together.
Matilda – A cliche I know but this book about a book obsessed little girl is one of my all-time favourite books. I must have read it hundreds of times and it made me feel like it was fine to be obsessed with books!
The Five-and-a-Half Club – This was inherited from my Dad and the day it went mouldy and had to be chucked was one of the worst days ever. It's about a group of children and the fun they have during the summer holidays painting their clubhouse, catching frogs in jars and generally lots of fun in their little club.
Persuasion – I was late to the party with Jane Austen and so by the time I read Pride and Prejudice I didn't understand what all the fuss was about – the characters are annoying and the story expected. Persuasion on the other was wonderful. I loved the characters, particularly Anne Elliott and I found them so like able. I could totally understand why she acted how she did with Wentworth plus the story was interesting and believable.
Harry Potter and The Order of the Phoenix – It's no secret that I love the world of Harry Potter but book five is my favourite of the series (I think). It's the point in the story that you begin to find out the truth about Voldermort and how much danger they are all in. It's when you properly realise what's going on outside Hogwarts and how big it all is. I found the story so fascinating, as well as heartbreaking and gripping. Even though it's the longest book I can whizz through it, even now, in less than a day. That's how good it is.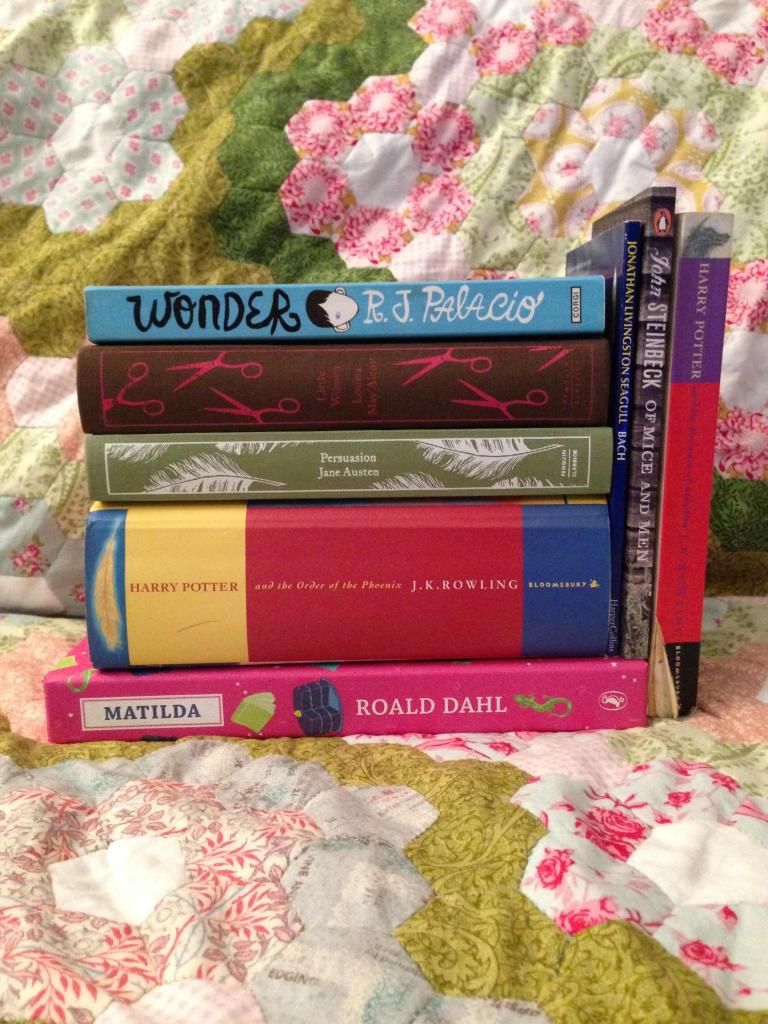 Now, over to Laura for her top five:
Harry Potter and The Prisoner of Azkaban – To be honest I wanted to add all of these books onto my list but I stopped myself and instead picked my favourite in the series. I can't really pinpoint why this is my favourite, maybe it's because we learn a lot more about Harry's parents in this one. Also meeting Sirius and Remus has to be in the Top 10 of best bits in the series. The whole Shrieking Shack moment is brilliant and when Harry finally gets parental figures that always brings me to tears. My copy of this book is falling apart, but it still sits in pride of place on my bookshelf.
Wonder – This was published quite recently and follows Auggie, a boy with a facial deformity as he starts school. We get chapters from all of Auggie's family members which means we see how everyone is affected. This is a book that I think should be compulsory reading for everyone.
Jonathan Livingstone Seagull, a story – My Dad gave me this book when I was about 12. It's a story about following your dreams and being who you want to be and it really makes you look at all of life's possibilities. This is another book that everyone should read. The fact that my Dad thought this was something I should and needed to read is so lovely. Plus the note he included in it is also just perfect.
Little Women – I have loved this story for as long as I can remember. It follows the four March sisters during the American Civil War. The tale of family life, discovering oneself and finding love is just perfect.
Of Mice and Men – I studied this Steinbeck novel for GCSE English and have loved it ever since. I was so gripped by it that I speed read it during my English lessons to get to the end as soon as possible. I just needed to know what happened to Lenny and George. I have only read it once since as I still find it so heartbreaking.
Hopefully this has given you a good insight into our minds. I always think that seeing someone's bookshelf is an awesome way of understanding and getting to know that person.
What about you, what are your top five books of all-time?
– Fi xx
PS if you want to know more about the books that we like then checkout our Goodreads accounts here and here.