Hello and welcome to a post about all the books. It was only when I sat down to write this post that I realised that we haven't talked books since this Desert Island Books post way back when in August. How exactly did that happen? And what an absolute travesty! Don't worry though, this error is about to be rectified with an epic post all about books.
First let's start with a Good Reads Challenge; back in January I set myself a challenge over on GoodReads to read 50 books in 2014. It's something that I planned to do last year, but failed. I don't know why, because I am always reading, but I got out of the habit of reading on my commute and I think that's when things went wrong. Anyway, in January this year I set myself the same challenge and told myself that I had to complete it. It's less than one book a week, which for a self confessed bookworm is definitely doable. And do you know what lovely readers? I've only gone and completed it three months early! Yes, by the end of September I had read a total of 50 books.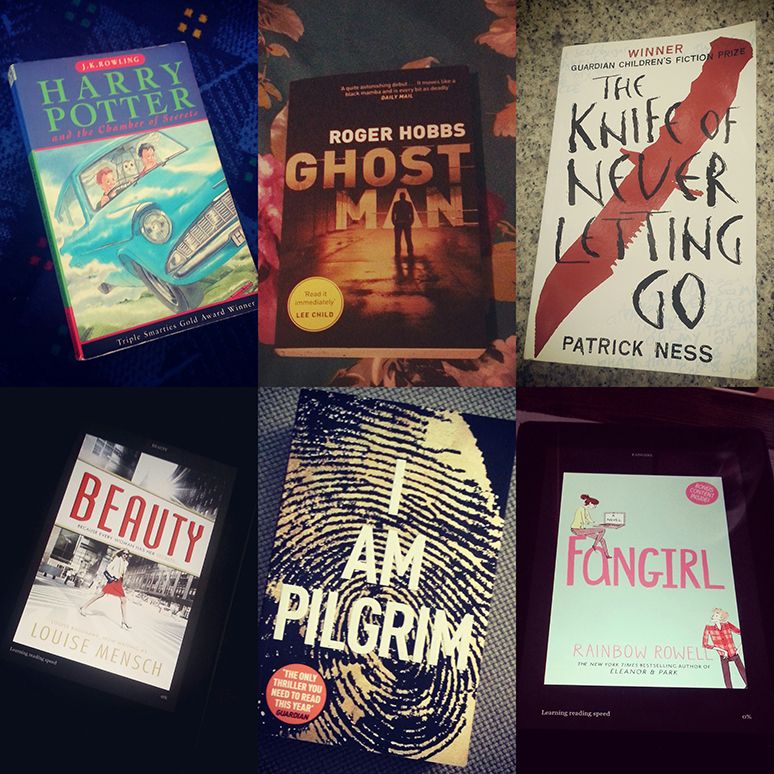 The full list of 50 is below. As you'll see I've added a few notes and short reviews to some of the books on this list. Just to give you a bit of insight into what I thought each book. Reviews of books 1-37 can be found over on my old blog if anyone is interested in reading my thoughts on any of them.
1. The Giraffe and the Pelly and Me, Roald Dahl
2. The Killing Floor, Lee Child
3. Pietr the Latvian, George Simenon
4. The Secretkeeper, Jodi Picoult – Another perfect Picoult book. Couldn't put it down.
5. Scarlet, Marissa Meyer
6. Endless Night, Agatha Christie – The first Agatha Christie book I've read. Not completely sold, but will try another one again soon.
7. Wonder, R. J. Palacio – This is a book that I think should be compulsory reading for everyone, and if that's not possible then at least in schools. The character of Auggie is remarkable and lovely and the way the story is told through different people's viewpoints is really well done. I've been recommending this to anyone and everyone since I read it.
8. Harry Potter and The Philosopher's Stone, J. K. Rowling
9. Star Cursed, Jessica Spotswood
10. The BFG, Roald Dahl
11. Allegiant, Veronica Roth – A great ending to the Divergent series. Without giving any spoilers the ending was unexpected, but actually pretty perfect, or at least that's my opinion anyway. It's not often I finish a trilogy and really like all three of the books and the final ending, do you know what I mean?
12. No Second Chance, Harlan Coben
13. The Book Thief, Markus Zusak
14. A Monster Calls, Patrick Ness – A beautiful story about life and death and family and childhood. It's another one of those books that I think should be compulsory reading, just because it is so gorgeously written. There are some lovely quotes in this book; "You do not write your life with words…You write it with actions. What you think is not important. It is only important what you do." and "Stories are wild creatures, the monster said. When you let them loose, who knows what havoc they might wreak?"
15. The Hobbit, J. R. R. Tolkein
16. Private LA, James Patterson
17. Leaders Eat Last, Simon Sinek
18. Running Like a Girl, Alexandra Heminsley
19. Of Mice and Men, John Steinbeck – still my favourite book ever.
20. Little Love Song, Michelle Magorian
21. The Unlikely Pilgrimage of Harold Fry, Rachel Joyce – Wasn't expecting much from this one and couldn't get into it until suddenly I was gripped and engrossed.
22. Stay Close, Harlan Coben
23. Mistress, James Patterson & David Ellis
24. Six Years, Harlan Coben
25. The House at Paradise Street, Sofka Zinovieff
26. Fangirl, Rainbow Rowell
27. I Am Pilgrim, Terry Hayes
28. The Sin Eater's Daughter, Melinda Salisbury – Loved this.
29. The Shock of the Fall, Nathan Filer – unimpressed. Sometimes I just don't get things in the same way that everyone else does.
30. Beauty, Louise Mensch
31. Innocent, David Baldacci
32. Where There's Smoke, Jodi Picoult
33. Sidney Sheldon's The Tides of Memory, Tilly Bagshawe
34. Landline, Rainbow Rowell
35. Sharp Objects, Gillian Flynn
36.  The Knife of Never Letting Go, Patrick Ness – Gripped pretty much straight away. Must read the other two books.
37. The Silkworm, Robert Galbraith – Still adore J.K and will devour anything she writes.
38. Half Bad, Sally Green
39. Ghostman, Roger Hobbs – This book was the winner of the CMA thriller of the year award, so I was 99.9% sure that I would like it. And I did! The book follows 48 hours in the day of a ghostman who is tasked with clearing up after a bank robbery goes wrong. We also delve into the past to learn how our Ghostman met his current employer and just why he is helping out now. This chops and changes quite a lot, and it took me quite a while to get used to it, but it was necessary and everything made sense in the end.
40. The Rise of Nine, Pittacus Lore
41. Little Lies, Liane Moriarty
42. Rubbernecker, Belinda Bauer – I was completely gripped by this thriller and read it in under 48 hours. So many twists and turns and a brilliant ending.
43. We Were Lies, E. Lockhart – So many good things heard about this, but I guessed the ending which was a bit dissapointing.
44. Eleanor & Park, Rainbow Rowell – I think this is my favourite Rowell book.
45. Daughter, Jane Shemilt
46. Before I go to Sleep, S. J. Watson
47. Second Honeymoon, James Patterson & Howard Roughan
48. Confessions of a Murder Suspect, James Patterson & Maxine Paetro
49. Eeny Meeny, M. J. Aldridge – very disturbing, but I also couldn't put it down!
50. Paper Towns, John Green
Looking at this list it's really hard to pick a favourite of the year, I just read too many good books. The highlights I think were Little Lies, Eleanor and Park, I am Pilgrim, The Sin Eater's Daughter, A Monster Calls and Wonder.
The only question now is how many more will I read before the end of the year?
What do you think of these books? Have you read any of them? What would you recommend I read next.
To be honest with you I'm very tempted to treat myself for completing this challenge. I've been wanting the eBook versions of The Harry Potter series forever and ever. Should I do it??
Laura xx