Once again it's turned to Autumn and I'm behind on my knitting. I do this every year, I have such big plans, and then suddenly it's Autumn and that scarf or the pair of gloves are only complete in my mind, not in the actual physical sense.
Despite this I am still buying wool. What is with that? I picked up four balls of wool the other weekend just because I liked the colour. Completely crazy as I have absolutely no idea what I am going to knit them into, nor a clue of when I'm actually going to start knitting when I do make up my mind.
To help me on my decision-making way I've been pinning wooliness galore over on Pinterest. It's an adiction, it can't be helped. Anyway I thought I'd take the time to share a few creations that are on my knitting radar at the moment.
Are these mittens not the most perfectly warm things you have ever seen? It bet my fingers would be awfully toasty in these. Plus the Scandinavian pattern just screams Christmas to me – I'm so obsessed I just can't help it!
As a self-confessed Potterhead (see this post) I have always wanted a proper scarf. So the fact that I found a pattern for a Hogwarts scarf? Totally exciting.  I'm a proud Hufflepuff so I'll be making mine in a yellow and black colourway, so that it looks more like the one above from the WB Studio Tour shop.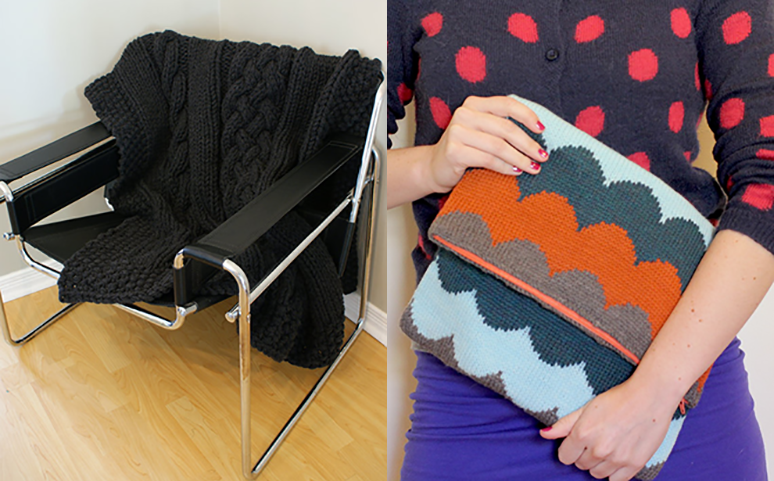 I'm totally in love with the scalloped bag by Katie Canavan. It's the perfect thing to protect a laptop or iPad. I'm still debating which collars to use, do I stick with these or try something different. A gradual change of one colour maybe?
And finally how cosy does this super chunky blanket look? I actually want this wrapped around me right now please.  You can buy the pattern from the shop here (ErinBlacksDesigns) and it's only £3.49. A total bargain if you ask me. One day I want to be able to knit something so fabulous. This, Netflix and hot drinks – is what this blogger's winter dreams are made of.
Tell me what's everyone else knitting at the moment? Any pieces I have to knit next?
Laura xxx