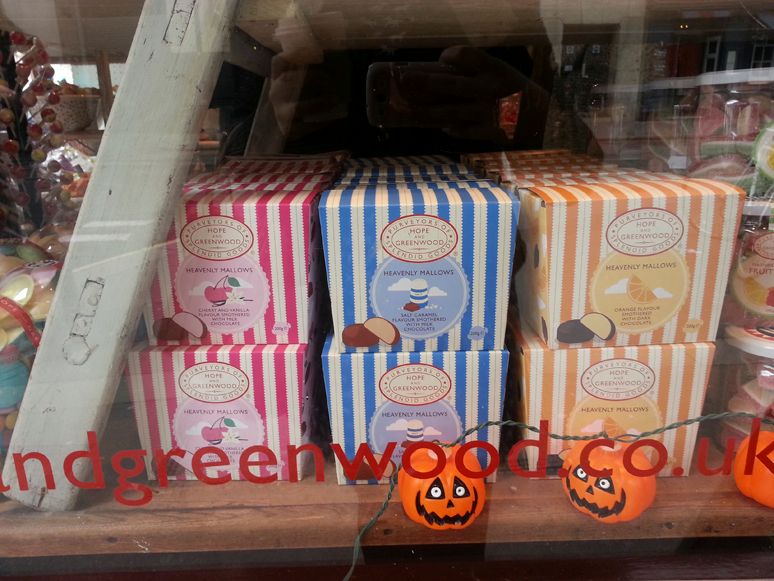 It's nearly November (how has that happened?), so I think it's time for a life catch up. So lately I've been…
Reading… I gave up on Will Grayson, Will Grayson and instead I've immersed myself in The Hit by David Baldacci. I will go back to WG, WG but I'm just not in the mood for it right now.
Coveting… all the sweets in Hope and Greenwood (see pic above).
Learning… To run again. It's been too long since I've pushed myself in terms of running. I've been sticking to my normal pace and distance for too long, so now I'm getting out of my comfort zone again and going that little bit further, or faster (or both).
Making…  I've got knitting plans at the moment. I'm not sure what I'm actually going to knit, but something will be made.
Planning… Weekends away in November. Christmas meals and ice skating fun for December.
Cooking… Blondies, pasta bakes and mug cakes.
Drinking... Wine. Coffee.
Looking… For the perfect winter coat.
Playing… In the Autumn leaves in the park.
Deciding… To enjoy the little things and not stress the big things.
Wishing… Certain things would/could happen sooner.
Enjoying… Family time. Alone time. Sofa days.
Waiting… For all the things to happen. For Winter to come. For people to make up their minds.
Considering… Christmas shopping.
Watching… All the US TV; How to Get Away with Murder, Grey's Anatomy, Criminal Minds.
Needing… Sleep.
Wearing… Jumpers and boots. Warm pajamas and fluffy socks.
Noticing… The colours of Autumn. The kindness (and rudeness) of strangers.
Feeling… Impatient.
Admiring… The poppies at the Tower of London and remembering the sacrifices made for us.
Sorting… Out my life, my flat, my wardrobe. Life is all about the admin at the moment!
Buying… Last minute Halloween things for a running costume. A few bits (this & this) in the ASOS sale. Two Christmas presents.
Bookmarking… Design Love Fest – I'm loving their Dress Your Tech blog posts. I have the best looking desktop background right now.
Snacking… M&Ms.
Hearing… Ed Sheeran's latest album is on repeat right now. Also I heard my first Christmas song when I was out shopping the other day.
Laura xxxx