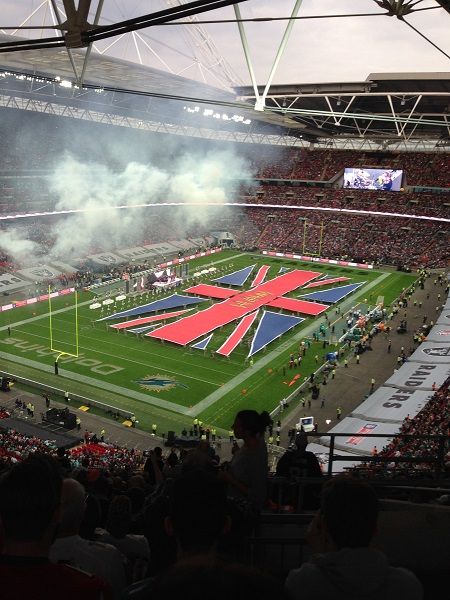 On Sunday I'll be heading to Wembley for my second NFL London match of the year and I can't flipping wait! It's such a brilliant sporting event and having watched the Superbowl and other American Football matches on TV for so long it's great to finally go to an actual proper bona fide American Football game. So three cheers for NFL London being a thing – long may it continue!
I first went to an NFL match back in the autumn of 2012, when Wembley hosted just one match. Since then NFL London has got bigger and better and this year there will be three matches hosted in the UK, one in September, one in October and the last one this Sunday. I know a lot of people who just don't 'get' American Football, particularly in the UK. I'm often asked a variation on the following when I mention I'm off to a match:
What, how is that even fun?
Why would you even bother to go along and watch that?
Isn't it super slow?
So I thought I'd dispel some myths and share my favourite things about the NFL, so here goes…
The atmosphere: The crowd play a huge part in the game. They are there to spur the players on, by waving the complimentary flags, cheering on the cheerleaders and getting over the top, loud and crazy when needed.
It's at Wembley Stadium: Wembley was built for a game like this. For a sport where the players feed off the crowd. The voices, shouts and songs crowd the players and echo around the stadium.
The pre-game entertainment: Anything that has an hour-long build up including fireworks, Def Leppard or Little Mix (the last two matches), cheerleaders, multiple national anthems and giant flags is going to be awesome.
The Cheerleaders themselves: they do not stop. There's a dance for half time, the change of ends, points scored, touchdown, it's got a bit quiet, ooh free t-shirts are coming your way. The list goes on and on. Their stamina and energy is immense. Not to mention their ability to keep warm – I don't even understand how they aren't ice blocks from the start!
The food: as you'd expect from an US sporting event the food is super important and there's a lot of it! We're talking super sized drinks, eight chicken pieces rather than the usual four and something called a mac 'n cheese donut, which I don't even want to know about. What even is that, deep-fried pasta, WTF?!
The game: I know I've put this at the end but I really can't stress enough how much more is going on that's not the game itself. Don't get me wrong I love the sport itself and seeing how the team operates in an actual game playing environment – as you miss so much just watching it on the TV. I love American Football as it's hard to know who's going to win and what the result will be. Take the last game at Wembley a few weeks ago. One team was leading all the way through and their opponent didn't score once until the second half. Then on the last kick the losing team won the whole match. Amazing.
In short the NFL is all about the spectacle. It's not just about the odd-shaped ball and scoring points. There's a whole lot more to it and I defy you not to LOVE it!
Have you ever watched the NFL? What's your favourite part about it?
– Fi xx