As soon as I spotted these Rainbow Spiral Biscuits over on the Sprinkle Bakes blog I knew they had to be baked for the big 21st/30th birthday party. I mean just look at them, yummy! Sadly I couldn't get them as bright as I wanted to, but I still they look pretty awesome. They're super simple to make, all you do is…
1) Make you usual easy biscuit recipe
2) Split into six bowls and add the whole tube of food colouring and mix until the dough has full coverage
3) Roll out each colour of dough individually between greaseproof paper
4) Use the greaseproof paper to pile the lengths of dough on top of one another (make sure you remove the greaseproof paper)
5) Roll out the whole stack of six colours until the dough is packed tightly together
6) Use the greaseproof paper on the very bottom to roll the pile up into one tight sausage shape. Don't worry if it's not perfect.
7) Wrap the sausage of dough in cling film and pop in the freezer
8) Leave for 24 hours and then use a sharp knife dunked in hot water to slice the dough
9) Bake as usual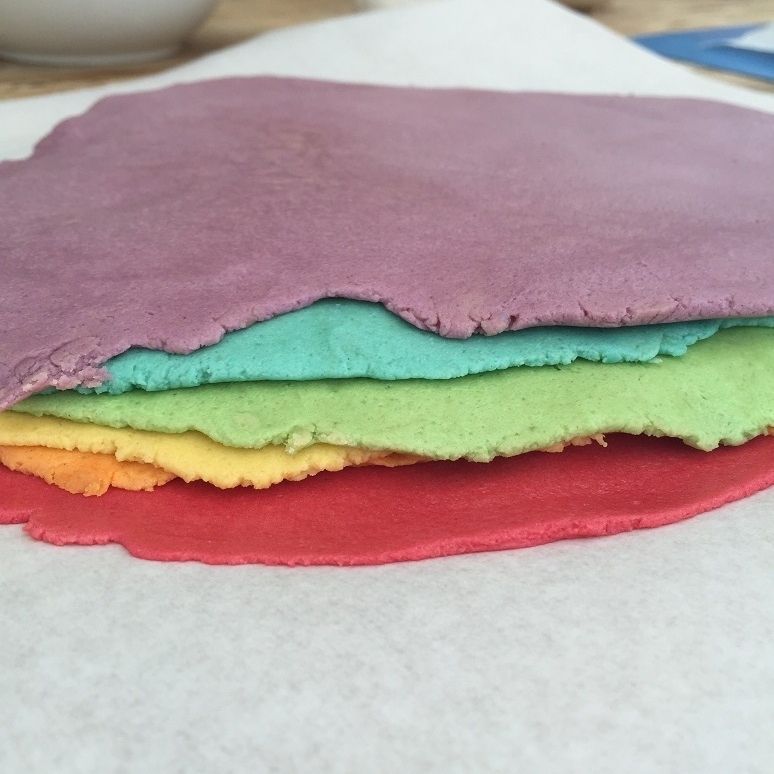 All layered up!

The frozen dough just before the cutting commenced.

Ready to eat – yummy!
These biscuits really are a talking point and for something so visually stunning they are super easy to make. Go on, give them a go – I dare you!
– Fi x