Last week Fi and I were in Deal for birthday celebrations with the parents and youngest sister and it was so perfect. I don't think I've been this relaxed for quite some time. While that doesn't bode well with the start of what I'm sure will be a manic week back at work, it was thoroughly fabulous while it lasted. Plus at least batteries were recharged and lie ins were done – I can't really complain about that!
Today I thought I'd share my Top 10 of my week in Deal so that you could all have a peak into our week in Kent.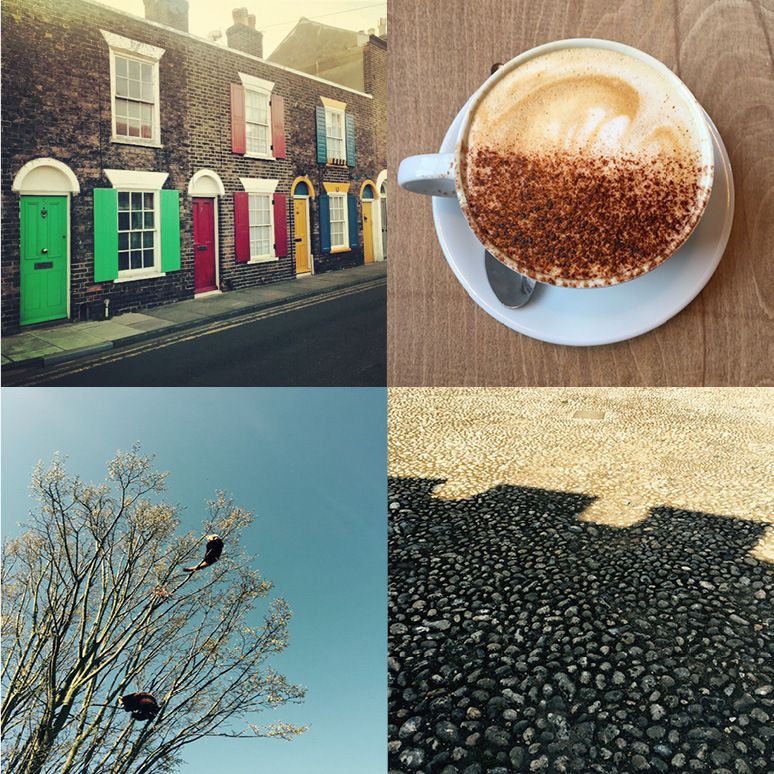 Colourful houses / coffee time / red pandas / Deal Castle shadows
Seaside Views. Being by the sea is so relaxing. Wandering along the beach, skimming pebbles and watching the seagulls fly by just makes my heart sign with happiness.
Wingham Wildlife Park. We spent a very sunny morning at this wildlife park situated between Deal and Canterbury. Yes, it was slightly manic with children on their Easter break but the plethora of animals certainly helped us get over that. The park even had a pair of lions who had been rescued from a circus in 2011 and who both spent the morning dozing in the sunshine looking completely chilled out. It's a tough call but if I had to choose I think my favourite species at the park were the Red Pandas and the Snowy Owl.
Canterbury. I'd not been to Canterbury since I went with school when I was 12, so we had to drop by. We strolled through the city, visited historic sites from the days of the pilgrims, found a delicious lunch spot and managed to do some shopping too.
Deal Castle. When the place your staying has it's own castle you have to stop by for a visit. We strolled up here on our actual birthday to get a bit of culture. It's an amazing place, shaped like a Tudor rose which only took six months to build – yes you read that correctly, months, not years. It was commissioned by Henry VIII and his bride to be Anne of Cleaves stayed here on her arrival into England. That's today's history lesson all sorted!
Mid-week brunch and coffee. Obviously brunch is a must. Especially when one can enjoy a mid-week lie in beforehand! The fact that The Royal Hotel was only 2 minutes walk from our cottage, overlooked the sea and had a brunch menu, of course meant that we had to sample it all. So we did. Twice. Plus we stopped for coffee, tea and cake regularly too. Although you favourite coffee haunt was definitely Hope & Lane on the high street. Again there's something so decadent about stopping for coffee at 11 am or 3 pm when you are normally working.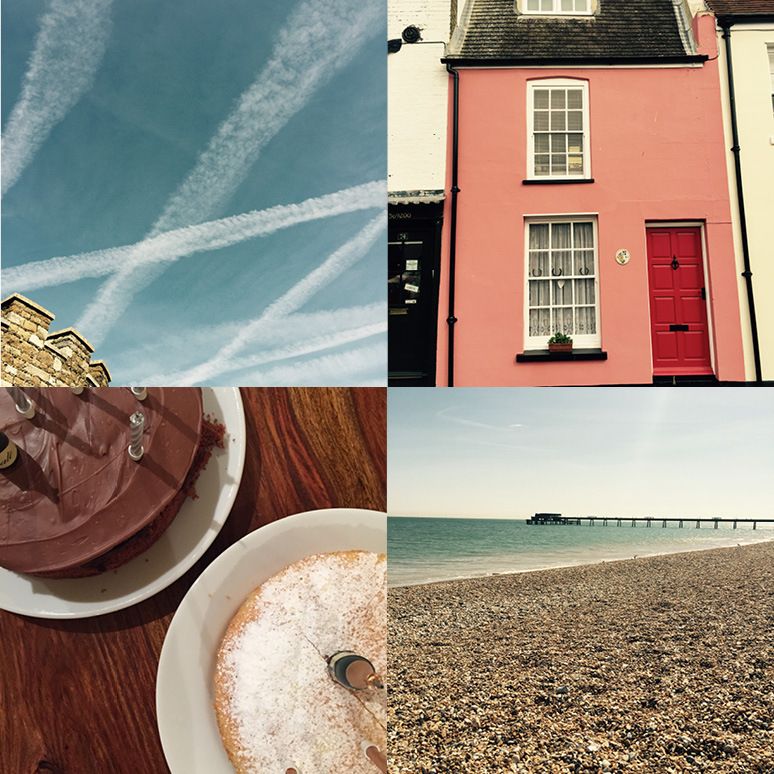 Deal Castle & blue skies / picture perfect houses / birthday cake / Deal beach and Pier
Gorgeous houses. Deal town is full of narrow streets, winding lanes and gorgeous terraced houses. Many of which are painted different colours. It's lovely to wander around the town and exclaim over bay windows, slanted roofs or painted shutters.
Blue Skies. The weather for our week away was gorgeous, completely not necessary, but gratefully received. Blue skies and sunshine just makes everyone so much happier.
Unplanned shopping trips (and purchases). Some days it just has to happen. I'm not sure if it was the aforementioned sunshine and the need for a summer wardrobe or what, but the shops in Deal and the surrounding areas had so many lovely things that I was just unable to resist. Both my Mum and I bought new shoes and some Joules goodies while we were away. Plus everyone managed to buy books galore in the charity shops of Deal.
Birthday cake. Birthdays would not be the same without cake made by the Mothership. It's the only thing I really wanted for my birthday – I even had a whole conversation about her superior baking skills with a work friend! Luckily for me she made her famous chocolate cake as well as her Victoria Sponge (half strawberry and half raspberry jam). Getting two cakes on your birthday is definitely one perk of being a twin!
Games of Cluedo. The Evans family rediscovered this game recently and have taken to having games quite often. So of course this made it down to Deal with us for a couple of games nights. And I even managed to win one game. Finally!
Laura xx