One of my favourite meals in the world is brunch. I know some people just don't get the weird mix of lunch and breakfast but I for one love it. The mix of a lazy start, all the different drinks, an excuse for pastries or a giant full english and no side of guilt and a good natter with family or friends. What's not to love?
I'll often treat myself to brunch on a weekend, either out and about or at home. This morning we made a delicious potato, egg and bacon hash and next week I'm thinking we need to have Lau's epic Cinnamon Buns. And one of the (many) things I love about living in London is all the brunch options so close by and I've been making it my mission recently to try as many brunch spots as possible. So here are my current favourite London brunch spots.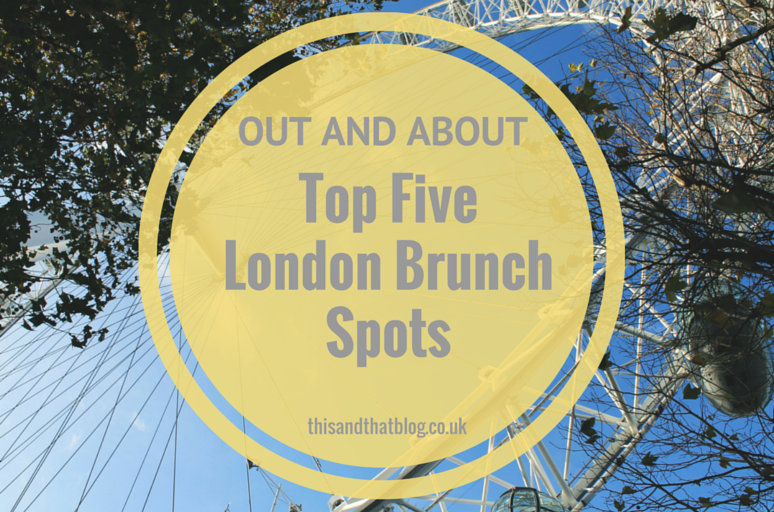 The Riding House Cafe – Situated around Oxford Circus this is a must-visit restaurant whatever the time of day, but for brunch it's particularly good. The menu features all of the best brunchy things including avocado on toast plus the juices and smoothies are delicious, I'm quite partial to the 'Boris Bike' one (blueberries, banana, almond milk and apple juice in case you're interested). The atmosphere is the perfect mix of relaxed and chatty and the decor is awesome too, with velvet turning high stools, a long sharing table and comfy sofas mixed with marble and subway tiles.
Tom's Kitchen – This is one of the most hidden and yet central brunch places in London if you ask me. It's in Somerset House overlooking the river and is a succession of large airy rooms with wooden floors and tables and large leather booths. The menu is small but everything is delicious. I definitely recommend the french toast with caramelised apples and cinnamon cream. I may have had it two times in a row. Oops!
The Breakfast Club – So I've not strictly been here for brunch, rather I went to the Northcote Road branch for a late lunch recently and it was the perfect excuse to try the menu . And I can definitely see why the queues are insane at a weekend. I had a hard time making a decision as the menu contains far too much choice and everything going past us from the kitchen looked (and smelt) divine. As for my posh sausage sandwich – A-MAZ-ING!
The Delaunay – This is perhaps my favourite brunch place in London. The decor is classic old school American glamour, like something from 1950s New York and the atmosphere is buzzy and loud and perfect. As for the food, it's all completely delicious and I'd go there just for the bread basket – it's that good. But then so is everything else, in particular the pastry basket, which you should get as an extra for the table, the pancakes, oh and the omelettes. All so amazing!
Bill's – I know it's a chain and so not strictly just a London brunch spot and probably on the surface it doesn't seem on par with the rest of this list, but I generally think this place is underrated for brunch, in fact a fair few people I know who love Bill's have never considered it for brunch. That's such a mistake as they do it all so well, they have perhaps the best porridge ever and their vegetarian breakfast includes hummus, mushrooms and guac, three of my all-time favourite things!
So yes, there's my list of some of the best London brunch spots. Would you agree or disagree with what's on there? There are a fair few places I still need to try, which is probably why they aren't on this list – Duck and Waffle for one – so who know maybe one day soon I'll update this list to the top ten places for brunch in London!