I love this sorts of posts. I doubt they're actually interesting to anyone else, but the actual process of creating this post, sorting through my things and seeing everything in one picture makes me happy. It's the little things, right?! I also like to compare each new post with the old ones just to see how things have changed, or not, as the case may be.
The timing behind this is that I've just purchased a new bag. I wasn't planning a new purchase, but then I saw the most perfect bag in accessorize the other day (unfortunately the bag is no longer available online, but I've seen it in a couple of stores in London). I've had a bag like it on my to buy list for at least a year now. But my needs are quite specific: brown, with shoulder straps (but long enough to go over a coat) and a long strap too, a main zip pocket and other pockets to separate things in. It doesn't sound like much but it's surprising how many bags just don't fit the bill. So when I found the one I had to buy it. I guess that's the point of to buy lists. You write down exactly what you are looking for, and when you find it, you have to buy it.
So anyway what's in my bag?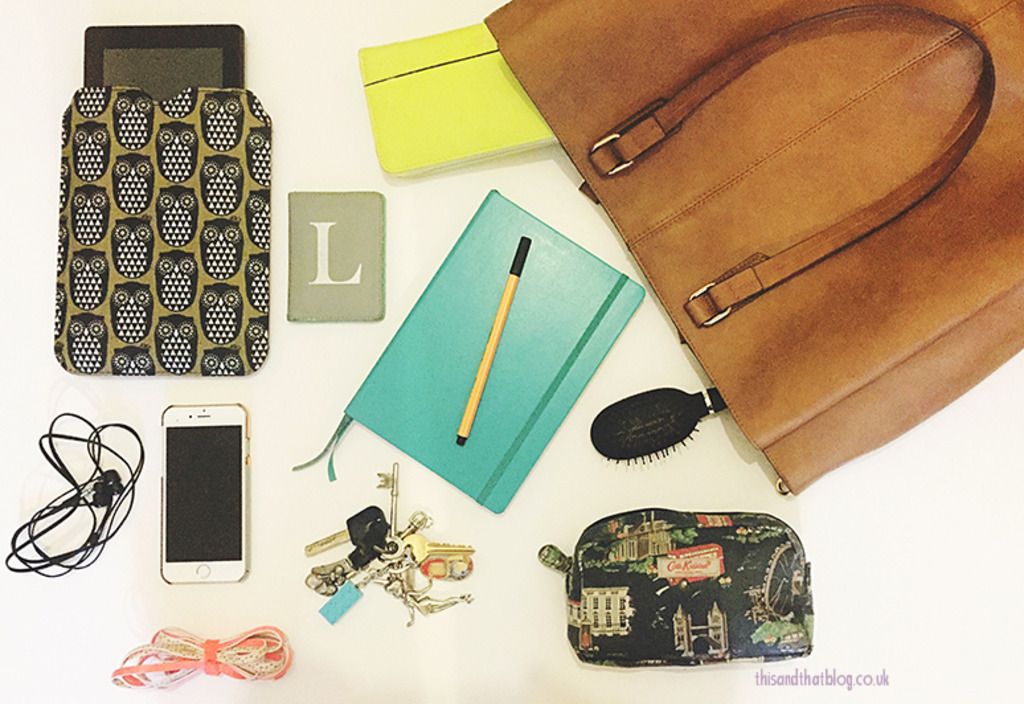 Bullet Journal and Pens – aka my life in a book. I cannot explain how prepared I feel now that I am using a bullet journal. No more scatty brain moments, or searching through scraps of paper, phone notes and emails to find my to do list. Who knew being organised was as simple as sticking to one notepad?
Make Up Bag – contains all the obvious really. I've got this organised to contain the bare minimum of everything I need. It contains deodorant, basic make up, dental floss, hair bands, hair clips, a perfume stick, and blister plasters (obviously)! It means that for any weekends away I can just throw this small bag into my suitcase and grab shampoo, shower gel, my hairbrush and a toothbrush and I'm good to go. It's all about the packing light/quick for me.
Hairbrush – this doesn't fit into the make up bag unfortunately, but my hair is incredibly fine, which means it get's knotty very very quickly when I leave it down. If I don't brush it at least once an hour I end up looking like a close relation to stig of the dump.
Headphones – essential for quiet office days and the daily commute. My current noise of choice is the Hamilton soundtrack and Desert Island Disc podcasts.
Charger Cable – another essential considering how much I use my phone. Why does the darn iPhone battery die so quickly? Although it's super long and gets tangled easily the cable is at least colourful and interesting – thanks Hema.
iPhone – Either in my bag or my pocket, it's basically another limb for me. Especially as I still need to get a new watch battery so it's my only way to tell the time.
Pass Case – Living in London this is essential. It saves me constantly pulling out my purse to get through the ticket barriers at the tube or train station. I also keep my work pass in here as it's a little more exciting that the boring see through plastic cases that got handed out on the first day as a new starter.
Purse – Containing money, cards, driving license and at least 20 loyalty cards. It's a miracle I can shut it. And isn't the colour just perfect?
House keys – with a plethora of fun keyrings. Because personality is key. 😉
Kindle – Another commuting essential is the ability to lose myself in a book whilst on the train. It makes the journey past faster and it gives me precious hours away from my own brain!
What's in your bag? Does it contain similar things to this or is the contents completely different?
Laura