Greetings chums! Today I want to natter away about my TV and the series that I binge watch! In all honesty the TV series boxset (real or digital) is just the perfect answer to a tired evening, a lazy Sunday afternoon or anytime when nothing else on TV quite hits the spot.
A while ago I read this post over on Oh Gosh blog and loved it. I realised it's the type of post that I like reading, so I wanted to do something similar here and write my own version (I hope Em doesn't mind me joining the party!). I've included physical DVD boxsets as well as shows available on Netflix or Amazon Prime Video as I switch between all three to catch up on programmes and while away a few hours.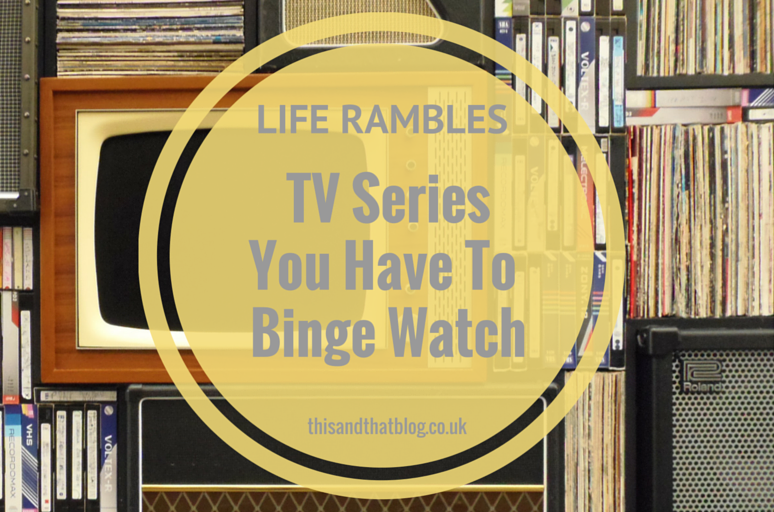 Photo credit: Tracy Thomas/Unsplash
Pretty Little Liars (Netflix)
A US teen mystery/drama about a group of school friends one year after the disappearance of one of their group. The four friends are reunited when they all start receiving mysterious and threatening text messages from A.
Before I started this series I'd heard all about it on Twitter. I'm being deadly serious when I say that my timeline was awash with PLL talk. I was intrigued so I finally made myself watch an episode. And was completely hooked, I then proceeded to get my sister hooked so that, on nights that we were both in, we could watch it together. Genius plan even if I do say so myself! We've just finished Series 2 and OMG, obsessed! The only negative is the fact that there's no way these girls are 15/16 in series 1, but that's a normal thing and if you can suspend reality for that then you've got a good show.
Daredevil (Netflix)
Based on the Marvel comic series of the same name. Matt Murdock is a lawyer by day and vigilante by night. After a childhood accident makes him blind Murdock uses his other heightened senses to fight crime in the Hell's Kitchen area of New York.
Okay so I haven't started series two yet as I got myself hooked on PLL instead, but this series is waiting for me as soon as I need a change. I watched the first series over the course of a couple of weeks and I know the next series will be just as gripping. Also after the ending of series 1 I'm intrigued to see what will happen and how things will change now.
The West Wing
This US classic follows a group of White House staffers and POTUS through seven years of life in the Oval Office. The line in Episode 1, Season 1 of 'sudden arboreal stop' still cracks me up even after I've watched it at least 5 times.
I actually own the boxset of this as I love the show so much. I didn't catch this when it was originally on TV, which is disappointing, but it means that when I did get around to watching it I didn't have to wait for a new episode each week. Which I will forever be eternally grateful for. It's the sort of programme that I can watch over and over again, the characters are wonderful and the actors nothing short of brilliant which means even with a slightly off storyline (or with one you don't understand) you are still hooked.
Line of Duty (BBC iPlayer & Netflix)
This British TV police procedural drama follows the investigations of AC-12, a police anti-corruption unit.
This was suggested to me when the third series was on BBC, so I swiftly downloaded it via iPlayer and binge watched the whole thing on a train to Bruges. I love the fact that this is a UK drama and a good one at that. I'm now making my way through the first two series to see what I missed as the catch up episode a the start of the third series was useful, but not enough. Plus if I can drag it out until series 4 then I'll be smiling!
I've also go my eye on the following as and when I have time to get stuck in.
– Orange is the New Black – I know I've still not watched this one.
– Breaking Bad – or this one (!!!).
– The Good Wife (I've watched the first 2 series (I think) but need to finish all the others).
– The Mindy Project – I've been told I will love this, so I need to try it out. I've no idea which of these services show it though.
–  Vikings also has me intrigued.
Plus I've just started The Man in the High Castle on Amazon Prime and I can definitely see this becoming an obsession too.
What about you lovely lot? Any favourites in your Netflix or Amazon queues? What should I be watching next. Also would someone please give me a time turner to make the most of my subscriptions? Great, thanks!
Laura