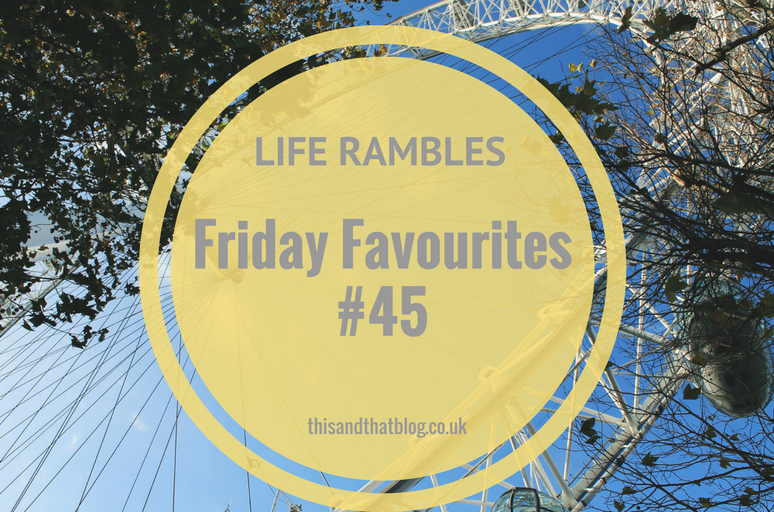 Yay it's Friday and boy is it a good one!
I have 9 hours to go before I'm out of the office and on my holibobs for over a week. You bet I'm excited! Yes, I've got a lot of things to do today, but it will all be worth it to turn on that out of office and skip out that door!  I love the fact that I've been super organised with my holiday planning this year, however it's meant that I've been waiting for this trip to the sunshine for over 6 months. It's going to be all about the sunshine, the beach, the swimming, the cool drinks and delicious seafood. VdL see you soon.
So apart from upcoming holiday plans what else has seen me smiling this week? First up was an unexpected trip to Esher on Sunday for a family trip to Zizzi's for pizza before coffee and cookies while watching Swallows and Amazons. I have to admit that I've never read this book so I wasn't necessarily planning to see the film, but a couple of unused tickets later and I was thoroughly enjoying myself. I like those moments of serendipity that turn into good memories. Especially when they include pizza!
Another perk of the week has been some great work meetings. I'm four weeks into my new role now and I'm thoroughly enjoying myself. Each new week brings a greater understanding to the role, and also a strengthening in the decision I made to take it. Does that make sense? I guess sometimes you take chances not really understanding how they will turn out, but so far, so good on this one.
Also the sunshine, hasn't it been amazing? Yes, I may have complained about the heat at certain points this week, but that's understandable when you're a commuter. But aside for those two instances each day I have been loving it. London in the sunshine is lovely so I'm making the most of it for as long as it lasts.
Last but not least it's the Great British Bake Off that has been a favourite this week. This show is like a giant hug after a long day and it was exactly what was required on Wednesday night. OH how I've missed it all. I think my best part of the show was the fact that it reopened the 'is the jaffa cake a cake or a biscuit' debate on twitter. Only in Britain!
What have been your favourite parts of the week. Have you been out enjoying the sunshine?
Laura xx