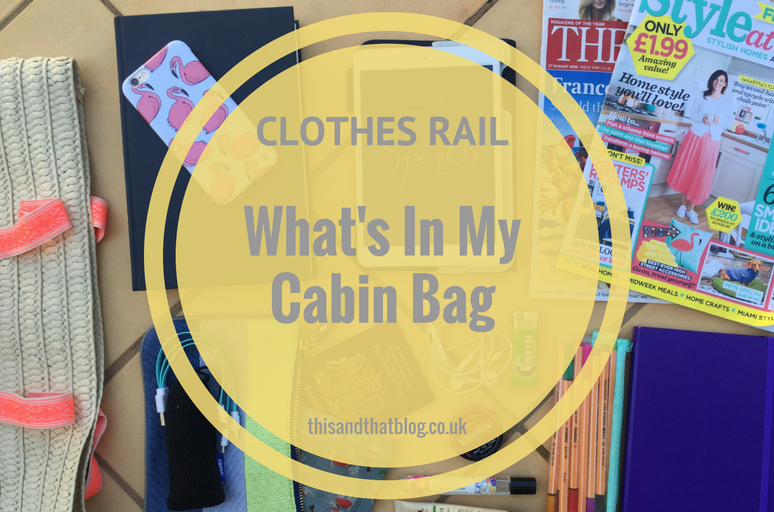 Greetings friends! I'm currently in the lovely Portuguese sunshine, enjoying all the sun, all the food and all the lazing. Talk about blissful! Anyway, today seems the perfect day to give you a nosey into my cabin bag. I've been meaning to do my version of Lau's in my bag post for a while and just haven't gotten around to it. Buy today's the day – let's have a sneak around all the things I take on a flight…
{This is assuming that I have a suitcase in the hold for all my shoes, clothes, etc. Otherwise I'd be shoving some, but not all, of this into a wheelie cabin bag and it would definitely not look this organised!}
The bag itself – On this flight to Portugal I opted to just take my beach bag as I didn't want to have a fancy bag with me on this trip. The beach bag is perfectly suited for every day of my holiday so it seemed a waste not to use it on the plane as well. This one is from a recent trip to Primark, and while I didn't need a new bag I totally fell for the straps and couldn't put it back! And actually it's huge and shows no signs of breaking even with all the stuff I threw in it on the way here!
A bag within a bag – The first thing that goes in this bag is a smaller bag that will double as an evening bag while I'm away. This is to keep all the smaller bits in one place in the giant beach bag, there's nothing worse than hunting around in a massive bag for one small thing when you're in the middle of the airport and possibly stressed with travelling. Or even worse my book getting dented corners or broken pages because of sharp edges on other items. So in here you'll find my headphones, passport, mini Euros purse, portable phone charger with cable and chewing gum.
Hand cream, lip balm and perfume stick – These would obviously normally be in the rather boring plastic bag so I can get through security. I don't take an awful lot of toiletries or make up in my bag as one I'm not a big user of it and two I'm always paranoid the plastic bag will break and I'll end up having to chuck stuff away. So keeping it down to the bare essentials is better in my book – who can be faffed with too much make up when you're getting up at 4.30 am? Not me!
Bullet Journal and pens – This journal has my life in it. From plans for the week/month/year to blog post ideas, a massive to do list, my book, food, money and fitness trackers and so much more. It's always with me so that I don't get behind and also so I know what I'm meant to be doing when! The pens are always with it so I can add stuff as it comes into my brain. And being up in the air is the perfect time to update the next week, draw the next month's grid or just check in on stuff. Definitely a flight essential.
Magazines – I always have to have something to read on a flight and magazines weirdly only get read when I'm off on holiday – I just don't often think to pick them up otherwise! My favourite magazines are house related ones, but normal houses, not ridiculous fancy houses, and food magazines. I've also started to get The Week as I like the idea of having a better idea of what's happening in the world. I don't often have lots of time for reading a variety of papers – so this is a good alternative.
Book – I'm never without a book in my bag and a flight is no different. I normally have my kindle or a paperback, but when it comes to holiday I'm all about the hardback or big airport exclusives – as suddenly I don't have to carry the book very far (well apart from at the airport). I usually throw in my latest book for the flight and then will get one or two airport exclusives at the airport. This time round I picked up Tallulah Riley's Acts of Love (don't bother reading it, it was dreadful all round) and The Muse by Jessie Burton, which I've yet to start. I think it'll probably be my book for the flight home!
Phone – Always on my person (obviously) and more important when flying as it has my boarding pass and car hire details on. I love that I never have to print out a pass when flying with BA as I'm always paranoid about losing it in the airport somewhere! Also an essential item so I can snapchat and Instagram to my heart's content!
iPad – I always have this with me on a flight so I can listen to music without running down my phone battery. And if my books not distracting me enough I can choose a new one on the Kindle app, watch an episode of Empire that I've downloaded on Amazon Prime or type up a blog post that's in my mind. I've got a fancy Logitech case that includes a keyboard so it's like having my laptop at my disposal.
I appreciate this bag makes me look like someone that has a tiny attention span and who can't just sit and do nothing, but the reality is I would happily sit and read my book for the whole flight – in fact I did for the two and a half hour flight out here. But I'm also a bad flyer – if I think about flying too much I freak myself out, feel sick and just can't deal. Therefore having all sorts of things to distract me is a must. Plus if I'm not in the mood for reading I need backups and variety!
Oh and you may notice the lack of house keys and a purse not containing the bare essentials. I do take these with me, just not in my hand baggage. They are locked safely in my suitcase and not lugged around the airport for four hours!
So there we go, that's what's in my flight bag. Just a few million things! So, tell me, how does your bag differ?