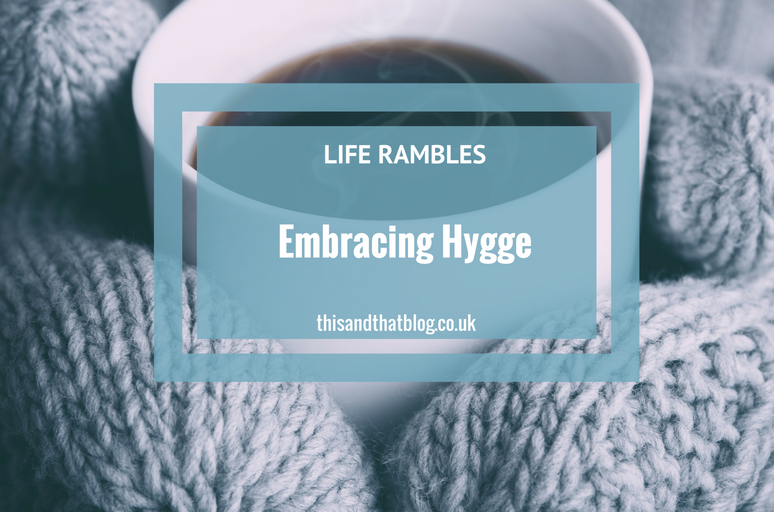 There's a lot of chatter at the moment about Hygge and the more I read about it the more I can get on board with the concept. Especially with the autumnal months drawing in. So what is hygge? Essentially it's about embracing things that make you happy, the word 'hygge' itself actually dates back to the 18th century and is loosely connected to the English word hug – I think that says it all really. Hygge is about embracing the things that bring you small pleasures and make you content – just like a hug does.
I think I'm quite into Hygge without even realising it, as I relish evenings curled under a blanket reading or netflixing, lovely long chats with friends or treating myself to a luxurious warm bath, but I want to do it more. To hold myself accountable to that I'm sharing a list here of the 'moments of Hygge' that I know will mean the most to me. And the moments that I need to focus on more over the coming months as I properly start a new role in work, push myself in terms of my health and fitness and prepare for the fraught times that come leading up to Christmas.
*Reading the Sunday papers
*Brewing fresh coffee
*Snuggles with Luna pup
*A day doing nothing but baking sweet treats
*Lazy Sunday afternoons under a blanket reading
*Switching off from social media over a weekend
*Starting back with the knitting again and losing hours in the pursuit of making a scarf
*Tramping through the woods
*Making homemade hot chocolate
*Exploring new corners of London
*Watching a double-bill at the cinema
*Spending an hour before work in a coffee shop doing nothing but thinking
*Long leisurely swims
*Slathering on a face mask and painting my nails
*Nattering on the phone to friends
*Long pub lunches
*Create a cosy living room with snugly cushions and knitted throws
What about you, what do your Hygge moments look like?
– Fi xxx