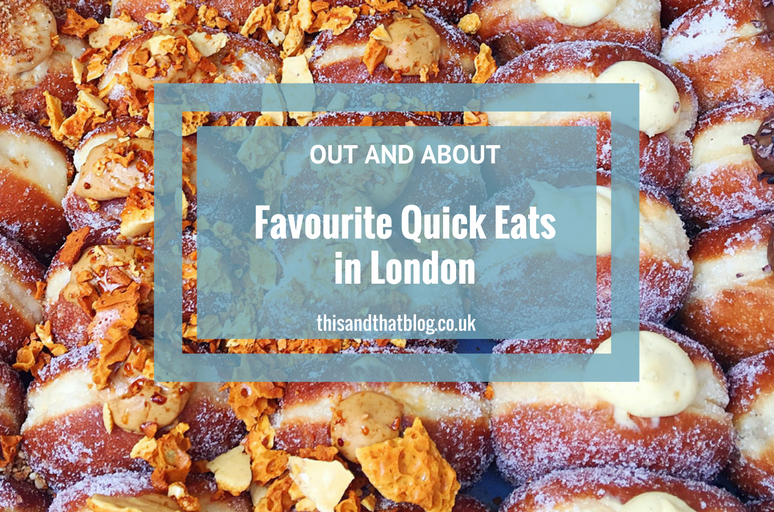 Here's a follow in from my last post of favourite food places in London. This time the focus is more on quick eats rather than full meals. So think everything from quick snacks, to fast food or good coffee.
Shake Shack – This is probably my favourite burger place to go to, it's fast food, but simple and delicious.The Covent Garden location is excellent in that its super close to my office, plus you get to sit and enjoy your meal right in the historic piazza. The queue is always spiralling out the door and winding through the outdoor tables, but don't let that fool you, it moves pretty quickly so it's worth joining the end.
Ben's Cookies – In my opinion Ben's are the best cookies in London town. Again they've got a store in Covent Garden, but they do have others – like at Westfield White City and if you're visiting the museums around High Street Kensington then there's a shop near the tube station too. My favourite flavour is the chocolate and peanut butter and I have to always get it, although I do often get more than one cookie so I have tried most of the other too. You pretty much can't go wrong with any of them. They're chewy and gooey, just what you want from a cookie.
Borough Market – I tend to head here early on a Saturday for a wander around. I'll get coffee at Monmouth Coffee House and then amble through the stalls to find a pastry treat for breakfast. If you're not one for coffee then the fresh juices are also worth a try. Once breakfast is done I like to head to the fruit and veg stalls and stock up on fresh produce. Quite often after a visit to Borough i'll end up cooking a huge pot of pasta with a tomato and veg sauce made up of ingredients I picked up in the morning. Delicious. Quick tip though – make sure to arrive early, the market gets super busy and full of people from about 10/10:30 onward which isn't fun, so you'll be wanting to get away from there asap if that does happen.
Wasabi – If I want to treat myself on a weekday lunchtime then this is where I head. Wasabi sells sushi and bento to takeaway, although some stores have a seating area too. Sushi wise you can create your own sushi box, with each piece being individually wrapped and priced. Which I love as I'm not an avocado fan and finding a box of sushi that doesn't contain avocado is pretty hard to do! Bento wise there is so much choice, my favourites are the chicken teriyaki yakisoba and the chicken katsu curry.
Gelupo Gelato – Hands down the best ice cream in London. The original shop is in Arthur Street, but there's also a gelateria attached to Vico restaurant in the heart of the West End and it's always worth a visit. I can highly recommend the bitter chocolate and the fresh mint stracciatella.
So there we have it, my favourite quick places for food or drinks. Would you agree with me? What have I missed?
Laura xxx