Greetings fellow bookworms and welcome to today's post, which is another reading life update for you all. As I'm sure you know I've been away for a week on my summer holiday where I basically spent most of my time in the sun reading a book. So it seems like the perfect time to post an update here while everything is fresh in my memory!
31. Wildflower by Drew Barrymore – This was a really easy read and an interesting look into the life of Drew Barrymore. It's one of those books that has a different story for each chapter so it's easy to dip in and out of it. Which is useful on the commute, as after one chapter you're already committed to the book, but don't feel like your left hanging in the middle of the story if you don't pick it up for a couple of days.
32. Half Wild (Half Bad #2) by Sally Green – I really like this one. It's been a while since I read Half Bad, so it took a bit of time for me to get back into the series. But I quickly remembered how intrigued I was by the story and how much I liked (or hated) the characters. The ending was horrible and brilliant and expected but not all at the same time. I need to get my hands on the final book asap to see how it all ends.
33. A Daughter's Secret by Eleanor Moran – I picked this one up in the Kindle sale on a bit of a whim and I was pleasantly surprised. The book follows a child psychotherapist as she treats a young girl who the police think holds the key to the whereabouts of her father the key witness in a big trial. It's filled with suspicion and intrigue and kept me gripped throughout. I would say that I wasn't a huge fan of all of the characters, and I'd have liked certain story lines to have been discussed further, but that's just me being persnickety!
34. Lying in Wait by Liz Nugent – Honestly I didn't love this book. From the jacket blurb it held so much promise and had all the makings of a brilliant crime novel. But it just didn't do it for me. I wasn't gripped, or even intrigued by the story, in fact I was mostly irritated by everything. I half hoped that the end would redeem itself, but it didn't really. Everyone else on GoodReads seems to love this one, so maybe I was having a bad week or something!
35. Girl Missing by Sophie McKenzie – This YA novel had me hooked from the outset. I was 20 pages in when I got on the flight to Portugal and I'd finished the book before we landed 2.5 hours later. We follow the main character as she starts to investigate her birth mother, is she the missing American girl that she's seen online, and if so did her parents kidnap her? This book is celebrating its 10 year anniversary so I can't believe I hadn't heard of it before now. I actually picked this up at YALC on a whim and I'm so pleased I did so. It's a quick easy read, that had me reminiscing for the days before Facebook, Twitter and 3G on our phones!
36. Far from True by Linwood Barclay – This one took me a bit of time to remember who all the characters were, but I enjoyed it. I think this is the third title of Barclay's that is based in Promise Falls and I like the idea of that. The next book in the series sounds intriguing, so I'll have to look out for it.
37. Private Paris by James Patterson – Another JP book and another easy read. I know the books are quite silly and unbelievable but they are also the most perfect beach read and exactly what I want when I'm on holiday.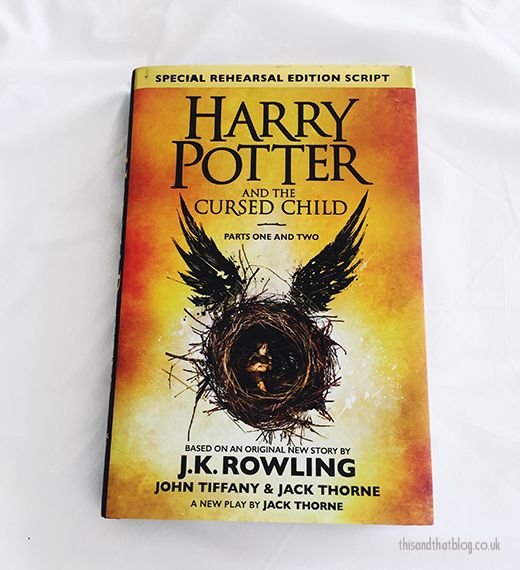 38. Harry Potter and the Cursed Child by J. K. Rowling – This is the script of the new play that's currently showing in the West End. I've seen the play, so I knew what to expect from the story, but I was intrigued about reading something in script format. In all honesty the last play I read was Shakespeare at school, so I wasn't sure how I would get on with the book. I have to admit I enjoyed it, and it was easy to read; pretty soon I forgot that I was reading a play instead of a book. However, I still suggest trying to watch the play first. The thing with a script is that you lose out on the explanation and background of the characters and magical world. And that's the thing about Rowling's wizarding world there's so much to understand and the script just can't give you all of that information in the same way that a novel or actually watching the play can.
39. A Divided Spy by Charles Cumming – I picked this book up at Gatwick airport on a last-minute whim. It turns out that it's part of a series, and unfortunately I haven't read any of the other books. However I think I was able to pick up any missing knowledge – I mean I wasn't completely lost about the characters, so that's all good right?! I like the story and it was interesting to read about the current Russian and UK relationship from the perspective of an ageing British spy. I also quite liked that the story is set in the UK, normally any spy titles I read are US-based.
40. Throne of Glass by Sarah J. Mass – This is another recommendation of Fi's – it's YA so of course it is! The idea of a female assassin really intrigued me. This book follows Celaena Sardothien as the competes to be the King's assassin. If she wins the competition then she gains her freedom, but if she loses then she ends up back in the salt mines for the rest of her life. It's a good story and there's lots to keep a reader occupied, with fighting, court intrigue and a sprinkling of magic thrown in too. I've got book two ready to start when I next have a craving for YA so fingers crossed it's as engaging as book 1.
What are you all reading at the moment? Any suggestions on books that I should read?
You can check out my previous reading updates here, here and here. Or let's be friends on GoodReads for an up to date idea on what I'm reading…
Laura xx