Greetings friends and happy October. How the actual hell did this happen? Where does the year go hey? Here's hoping you've been having a magnificent week. If it helps at all mine has been wonderful and fun-filled. So that's good. So what have I been up to I hear you ask…
First up Saturday saw me rekindle London theatre nights with a favourite friend. We've known each other for over 10 years (eep!) and we'd often meet up for theatre trips in London town. Of course, life happens and things change and suddenly it's been years since the pair of you trotted off to the theatre together. Well not anymore, because trot of we did on Saturday to watch a matinée performance of 1984. Now I have to admit that this book is still on my to be read list, so I didn't know what to expect from the play. But I was impressed, the story is depressing, and a tad gruesome and makes you think about everything, plus the staging and acting of this production was a treat. I highly recommend a trip to see this if you happen to be in London.
NFL is back in London. Hooray for that! At the last-minute I headed to the game on Sunday. I say last-minute, but I had a day or two warning. I can't say I was that impressed with the majority of the game, but it was thrilling to be surrounded by the atmosphere that only an NFL game brings.
I have three words for you, Sisters that bake. Isn't that the best thing ever? A few weeks ago Beccabean dropped off cupcakes to my work for me and this week Fi baked a peanut butter cake for her work crew. Luckily there was leftover batter so she made cupcakes just for me (okay and others, but whatevs). They are heavenly and I may have eaten a fair few of the 12 whilst typing this post. Nom, nom, nom. I must get her to share the recipe on here asap. Watch this space.
On Thursday I had a ridiculous journey to work. My train was delayed and then the tube was super busy and queuing almost out the station so I hopped on the bus. And even though I was running late it was the perfect thing to do. Seeing the Houses of Parliament, Big Ben and Westminster Abbey out the window just put a smile straight onto my face. Sometimes on a bad day you just need a reminder of these small things, of the fact that I'm in London, that this is my view, a how lucky am I? moment to turn the day around.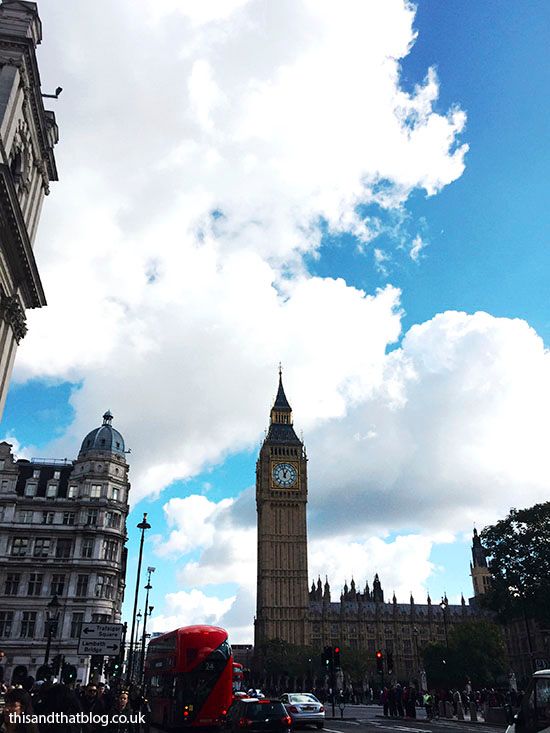 Also this week I managed a midweek visit to the cinema to see The Girl on the Train. Honestly the book wasn't amazing, so I was interested to see how the film worked. And I was pleasantly surprised, it was a tad gruesome in parts, but overall it gripped me. It is true to the book, apart from the whole set in another country thing. But if you can get past that, which I just about can then I'd recommend you take a trip to your local cinema.
Homemade hot chocolate and sneaky lunchtime trip to Ben's Cookies make for the best late night snacks. Although I seriously should have purchased more than one cookie. That was a silly error of mine! On the plus side the combination of M&S hot chocolate and my Nespresso milk heating/frothing machine means that I can enjoy coffee shop quality hot chocolate from the comfort of my own sofa. Hooray for that. Definitely something to smile about this week.
I hope everyone has a good weekend planned. I've got celebrations of the birthday kind this weekend as Becca turns 23. How did that even happen?
Laura xx