Greetings friends! And how are you this lovely autumnal day. I am ill, but I'm hoping coffee and orange juice can help with that! Anyway, on to today's post… For the littlest sister and her boyfriend's birthdays we decided to treat them to a day out in London and after much searching (there are an awful lot of awesome things to do in London – no surprise!) we settled on a trip to the Backyard Cinema in Southwark as it sounded pretty cool. It's an experiential cinema that's situated in an old warehouse that also houses an Italian food market. It sounds pretty awesome right?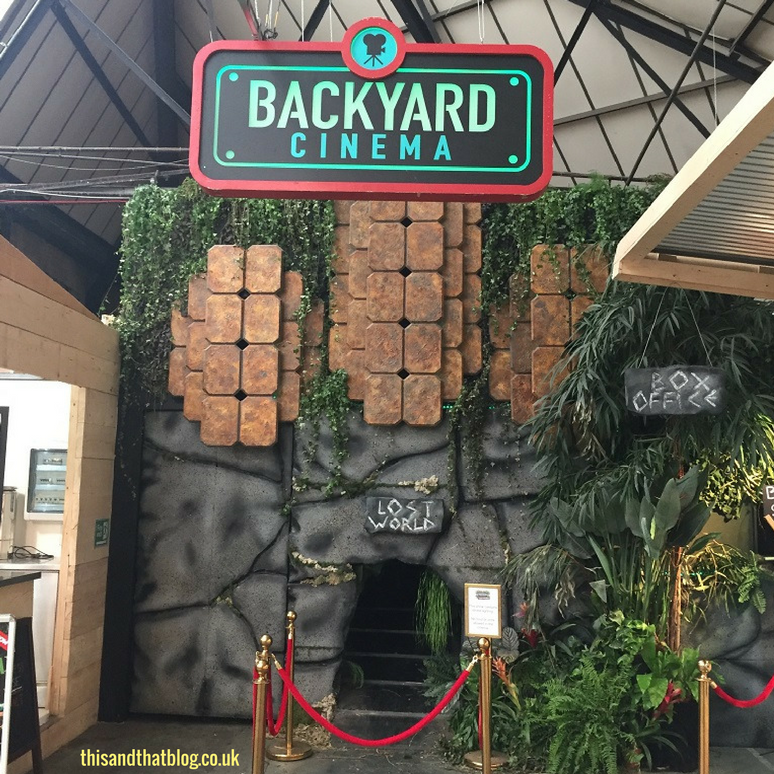 Well it most certainly was, in fact it was ten million times more brilliant than I anticipated! We arrived there an hour or so earlier than our showing so that we could peruse the Italian food stalls and get some yummy lunch. There was so much delicious food to choose from, from ice creams (and ice cream cakes!) and gnocchi, to burgers, sweet doughy doughnut balls and yummy-looking focaccia! After much deliberation we settled on slices of pizza and OH.EM.GEE. it was good. It was almost as delicious as the slices I've had in NYC, yes that good!
After eating all the delicious pizza we headed into the cinema, to watch Up. So here's the thing, the cinema is jungle themed, as in everything is jungle-fied. So the staff wear safari gear, the front facade is jungley and you enter it through a tunnel and path that winds round foliage, with monkey cries all around. And then you get to the rope swing and foam pit. So much fun! Anyway once you're in, the cinema is rather cool. There are giant bean bags to sit on and a bar at the back where you can buy all the drinks and snacks you could need. We got a 'free' cocktail with our ticket so only needed to buy popcorn. As for the cocktails – they were delicious and came in awesome temple inspired animal glasses, so looked pretty special! After much nattering and photographing and cooing over the jungle themed decor we settled down to the film, which was of course brilliant! I defy anyone not to love that film. And fyi beanbags make for pretty comfy cinema seats!
So if you're stuck for something to do over the coming weeks do head to the Backyard Cinema, its great fun and they're showing some pretty epic films, like Jumanji, The Lion King, Hook, The Jungle Book, Ghostbusters and Jurassic World. Tickets are £16 or £25 to include a cocktail, which isn't that steep compared to London prices, or if it's a special occasion!
-Fi x