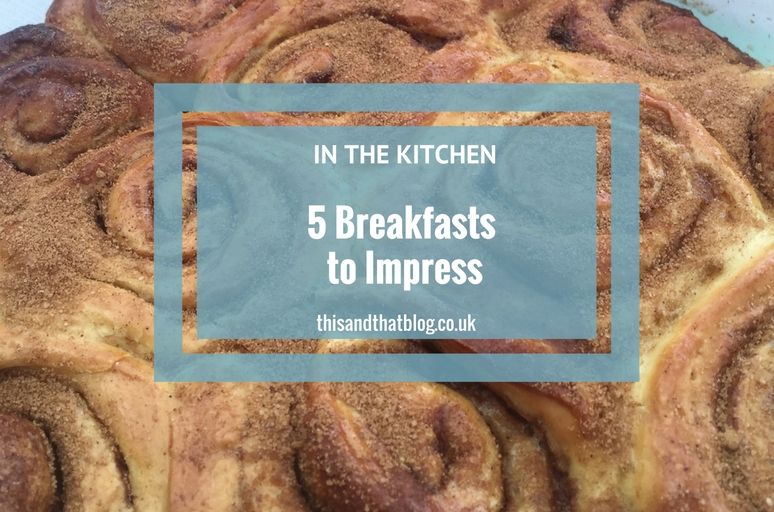 I think that breakfast is possibly my favourite meal of the day. Not only are you getting to eat for the first time in 12 or so hours, but there's so much choice. The variety of breakfast astounds me. Should I have cereal or toast, a bagel or a fry up. Which pastry do I fancy or is today the day for muesli or granola? So much choice! Which is good as I tend to get bored if I have the same breakfast too often, so I mix things up a lot. For example last week my breakfast went like this; porridge, bircher muesli, toast with butter (at about 2pm due to a 24 sickness bug), a pain au chocolat, french bread with jam and then scrambled eggs on toast with tomatoes. So a complete and utter mix, which means there's no way I can get bored. Hurrah!
Now because breakfast is my favourite meal of the day I like to cook up a bit of a storm on the weekends, it's seems like a good way to start the weekend and it's nice to get the chance to spend a bit more time on breakfast. On a weekday it's all about getting out the door in time to make my train so breakfast is a slight after thought, so the weekend allows for more thought and time in preparing and then eating breakfast. There's nothing better than spreading out the weekend papers, brewing a big pot of coffee and whiling away the time over breakfast. Like I said it's the perfect way to start the weekend off.
Today I'm sharing my breakfasts to impress recipes with you all. These are the recipes I turn to when I have people to stay or when it's a special occasion, they always work and they are always worth the extra effort that they take to make.
Number 1 is cinnamon rolls. I'm going to be brutally honest with you and say that these take a lot of effort but they are 100% worth it. I prefer to make my own pastry with these as the buns just come up so much bigger. But you can use shop bought stuff and just start at step 8 of the recipe. I'd also suggest making them the night before you want them. Then you can just throw them in the oven first thing and you (and your guests) will be treated to warm cinnamon rolls. For the past couple of years I've made these for Christmas day breakfast. They're the perfect post stocking breakfast to set you up for the turkey that's coming later on.
For number 2 we have banana chocolate peanut butter muffins. Now these are Fi's recipe and they are the only banana that I will eat. Every other time I try a recipe with banana in it, the flavour or texture is too much, but with these it's hidden so well that I can eat them without an issue – thankfully. The original recipe is for a loaf cake, but Fi has taken to cooking this and then putting the mixture into muffin cases for baking. This give individual muffins that can easily be frozen. Now we always have these in the freezer. They're great to defrost overnight and then enjoy in the morning. They also come in handy if you're travelling early. When we went to Bruges we packed a couple of these for our Eurostar journey saving ourselves from buying breakfast from St Pancras. Plus nothing tastes as good as homemade cake.
Number 3 is breakfast scramble, also known as use up everything in the fridge breakfast. This is one of those bung everything in one pan breakfasts and that alone makes it one of my favourites. Plus it tastes so good too. My favourite way to serve this is with a pile of toast, some fresh tomatoes and a pot of coffee.
Number 4 is banana pancakes. Okay I lied when talking about the chocolate peanut butter muffins, these banana pancakes are the only other time I will eat banana. They're fluffy and light and exactly like you'd expect American pancakes to taste. This is one of my go-to post run breakfasts, piled with fruit and drizzled with maple syrup. In fact, the other week I mixed a spoon of nutella with some greek yogurt and used that as a topping alongside some strawberries – so good!
For number 5 we have freshly baked bread. I love baking bread and although it's a long process, I definitely think it's worth taking the time to do it. In my opinion it's best fresh out of the oven, smothered with jam and butter. Or piled with scrambled egg, bacon and baked beans. There's something about freshly baked bread that makes a difference on a weekend breakfast day. For some reason i've never shared my bread recipe on here. I'm not sure why? But that must change sometime soon.
So what do you think? What are your favourite weekend breakfasts and what should I be adding to my list?
Laura xx