At the weekend I pulled myself out of my nest of tissues, throat sweets and pyjamas and headed into town. It was such a glorious morning, it seemed a shame to stay in bed all day and as I was feeling a little better I thought a wander into town would be a good idea. Fresh air and some culture is always good for a sore throat and head cold right? So off to the Victoria and Albert Museum I went, when you're feeling a little rubbish favourite places are needed, right?
As I'm lucky enough to have a membership I don't have to plan when I want to go to the exhibitions, which is the best thing ever as I tend to want to visit one as soon as I hear it's on, so planning and waiting is most definitely not on. Impatience is definitely an Evans thing! Anyway, the 'You Say You Want a Revolution: Records and Rebels 1966 – 1970' exhibition has just launched at the V&A and it sounded quite interesting. It asks how the finished and unfinished revolutions of the late 1960s changed the way we live today and think about the future. Being a fan of the music and ideals of the 1960s, this definitely piqued my interest. So I joined the queue on Sunday morning and headed in for a nose around. I love that I can just turn up and don't have to queue!
So let's talk about the exhibition it looks at five years in the 60s and charts some of the significant events and changes during those years  – everything from the civil rights movement, fashion and music in both the UK and abroad. It also picks up the development in consumerism and advertising and the impact of baby boomers becoming adults during this period. So loads of interesting things, however it just wasn't as good as I'd expected and I came away a little disappointed.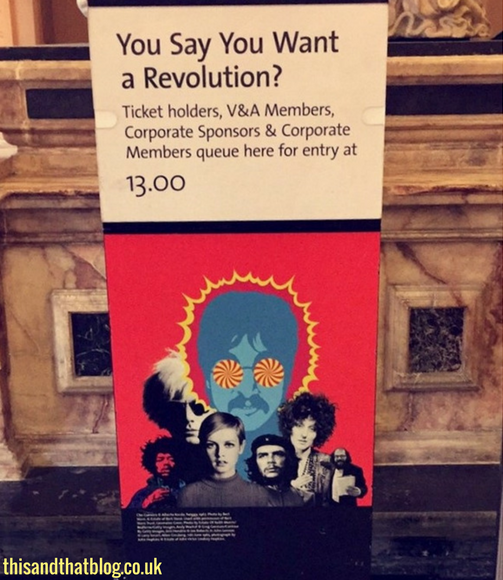 The content of the exhibition was quite disjointed in places and not as detailed as I'd have liked in others. There were so many fascinating topics that I felt they could have shared a bit more information on. Another thing that I think could have been better was the audio. When you get to the exhibition you get a set of headphones and a little audio pack and as you wander through the exhibit the music changes depending on which bit you're reading about. Or you can hear the relevant exhibits video audio at the right time. This sounds like a good idea, right? But it just didn't work for me, I mean the audio did work, I just didn't like how it changed the exhibition. In fact it was quite distracting and unnecessary at times. I liked the idea of listening to music as I wandered around, I just wish it had been one album of songs on a loop and they hadn't tried to tie it into the exhibits.
Another thing that wasn't great was how busy it was on Sunday. There was literally four people deep per cabinet and six-inch square placard and queues to read everything. Don't get me wrong I expect there to be some queuing and busyness, it's a new exhibition and it was a weekend, but I really wish the V&A wouldn't pack so many people into each exhibit. It was like we were sardines in some parts as the corridors are just so narrow.
So there we go, those are my thoughts on the new 'Records and Rebels' exhibition at the V&A. Reading this back it sounds like I didn't really enjoy it. Which isn't strictly true, I learnt lots of really interesting things and it was a fascinating exhibit, it just could have been done better I think. Or perhaps my opinion was made more negative because it was such a busy day to visit and people annoyed me. Who knows! But I'd still recommend it, just maybe lower your expectations a little!
-Fi x