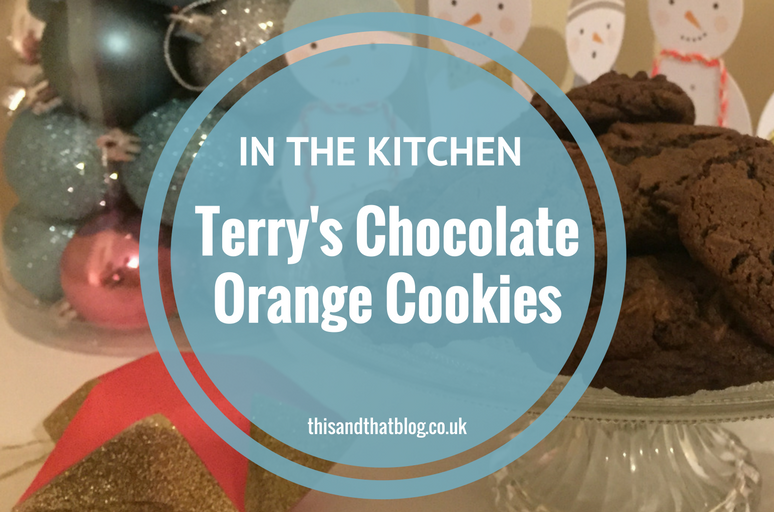 Today I wanted to share with you one of my new favourite festive recipes, the first of three that'll be on the blog this festive season, the humble Terry's Chocolate Orange Cookie.
When it comes to festive bakes there are two components that make something festive and as long as you have one of these in your bake then you've cooked something in keeping with the holiday spirit! The two components are a festive flavour or a festive shape. So last year's Christmas Pudding Crispies ticked the festive treat box as they were festive looking despite the very non-festive ingredients and these cookies tick the festive box as there's nothing that says Christmas taste and smell-wise, apart from cinnamon or turkey and stuffing, than a Terry's Chocolate Orange. That taste epitomises Christmas in my house.
It's super simple, all you need is
110g unsalted butter, softened / 200g light brown sugar / 1 large free-range egg / 1 tsp vanilla extract / 165g  plain flour / Pinch of salt / 1/2 tsp baking powder / 1/2 tsp bicarbonate of soda / 30g cocoa powder / 175g Terry's chocolate orange, cut into smallish chunks
and what to do…
Preheat your to 190 degrees C / 375 F / Gas mark 5. Line two large baking trays with parchment. / Cream the butter, sugar and vanilla together until light and fluffy. Add the egg and beat until incorporated. / Add the flour, pinch of salt, baking powder, bicarbonate of soda and cocoa powder and mix until a dough comes together. / Finally, finish by adding the chocolate chunks and mix into the dough. / Divide the mixture into balls and spread out evenly on the baking trays. / Bake in the preheated oven for 10-12 minutes, until spread out and crackling on top. / Allow the cookies to cool on the trays for 5 minutes so they slightly harden before moving them to a wire rack to finish cooling.
This Terry's Chocolate Orange Cookie recipe is from What Jessica Baked Next, we followed the recipe exactly and each time these cookies have been perfect! It makes fifteen wonderfully gooey chocolate cookies, with melt in the middle chunks of chocolate, a slight bite to the cookie and crackly tops. And the taste? It's literally Christmas in cookie form.This recipe would also be good with a Terry's Chocolate Orange substitute I'm sure. So white chocolate chips or without the cocoa if you want a slightly less rich cookie, basically the options are endless!
If you're looking for other festive recipes may I suggest the following from last year's festive baking sessions!
Chocolate Penguins / Mince Pies / Gingerbread / Melted Snowmen Biscuits / Christmas Pudding Crispies
Happy baking!
-Fi x