Wow! What a week it has been. You know the term 'one of those weeks'? Well this has definitely been one of those. Probably the biggest one of those in a while. But it's all okay, because it's starting to look up. So without further ado here's my favourite things of the week.
This weekend I had absolutely no plans. Like ZERO plans and it was amazing. I got up early both days and was super productive all round. There was house tidying and reorganisation, garden clearouts and plenty of baking. I made a batch of bacon and cheddar muffins, cooked my favourite slow cooker meal and also helped Fi make some chocolate orange cookies (recipe coming soon, I promise). It was so fun.
Also this weekend I went running twice. Considering my last run was three weeks (or more ago) this is a great achievement. Plus one run didn't have any walking breaks, so I'm pretty pleased with myself at that.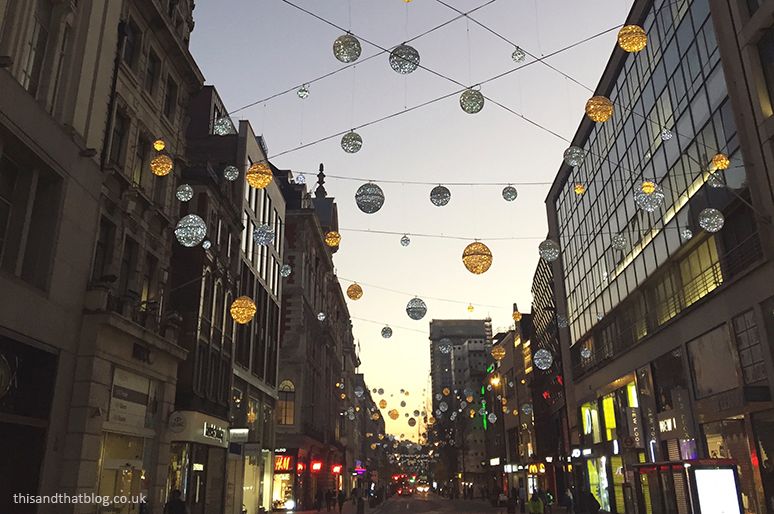 Tuesday morning saw me wake up super early in order to head into London town. I meet up with some friends for a pre-work breakfast at The Breakfast Club in Soho. We met at 8am, which allowed me to walk down Oxford Street as the sun was rising and take pictures of the Christmas lights without hundreds of people walking through my photo – it's the little things like this that make my day. If you haven't been to The Breakfast Club then I highly recommend it. The restaurant itself is decorated in fun and quirky ways, and they have great music playing – I'm talking 90s classics. Plus the food is delicious. I can highly recommend the BEC which is a bacon, egg and cheese roll. Simple, but perfect.
On Wednesday I had tickets to Amadeus at The National Theatre. It's no secret that I adore this place, and that I try to watch as many plays here as possible. Back when I was booking this I probably wouldn't have chosen this week if I'd have been able to know how crazy busy and tired my future self would have been this week, but obviously I don't have the gift of future seeing. So I had to go see this play. But I'm so pleased I did as it was excellent. A wonderful cast, wonderful musicians and imaginative set and the music and the acting was phenomenal. If you can get tickets then I implore you to go and see it! Also don't you just love the coloured lights on the theatre? FYI this isn't a Christmas thing, it changes colour all year round.
Finally this week I have been able to properly start my Christmas shopping. Hooray! So much fun. I love thinking about what to get people and wandering around the shops looking for things. Although I do need to stop myself for buying presents for me while I'm shopping for others! It's a good habit to have, but a bad one according to my bank account!
I hope everyone else has had a lovely week and if not, at least it's almost over. Onto the next one!
Laura