It's only twelve sleeps till Christmas – hooray! I cannot wait for the big day to arrive and yet at the same time I don't want it to arrive as then all the waiting will be over – which is my favourite part! However, as it's still not Christmas there's time to get into the spirit of things and right now I'm having severe Christmas tree envy. We decided not to put ours up this year as we're having flat viewings fairly regularly, so it seemed unhelpful to add a Christmas tree into the mix. After all Kirstie and Phil tell you to make the most of your house and ensure it looks as big as possible. Adding a Christmas tree laden with awesome decorations would not help our flat look large and roomy that's for sure! Especially not when you consider the sewing machine, board games and three heaped bags of presents in that room already – oops! So, yes no Christmas tree for us. But that hasn't stopped me perusing all the websites for the prettiest decorations. So here's my most wished for Christmas decorations right now!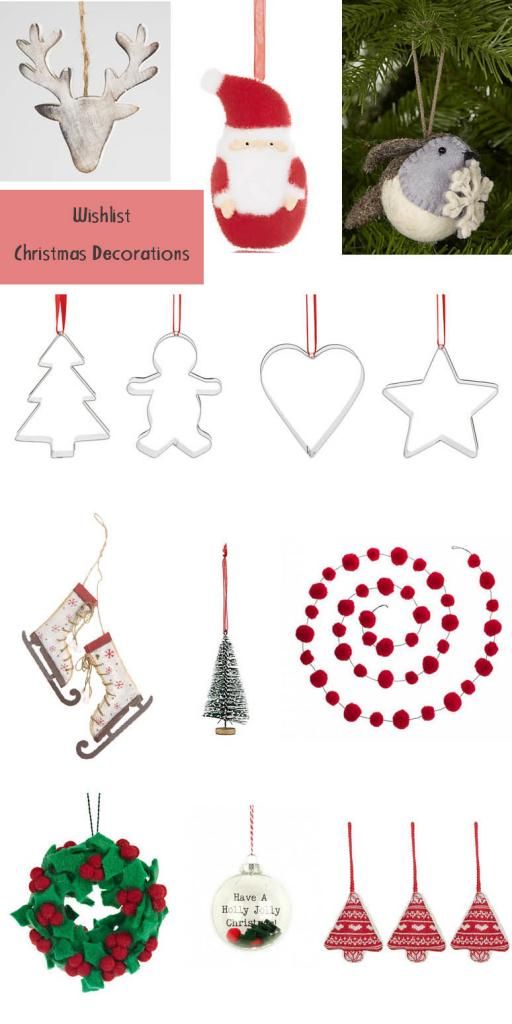 Silver Painted Stag Head /Foam Santa Claus /Little Grey Robin
Pair of Ice Skates  / Christmas Tree / Red Pom Pom Garland 
Felt Wreath  / Holly Jolly Christmas / Three Knitted Trees
Which is your favourite and which do you think I can legitimately treat myself to for next year's tree?
– Fi xx